Devi Mamak Steps & Fan Workshops with Eleen Kim
Starts on Saturday, 04/20/2019
Price from 55.00 €
Description:
10:30-13:00 - Devi Mamak Steps
Come to learn exciting new movements suitable for both fusion and ATS® dance to add to your tribal repertory. Devi Mamak has invented these movements and Eleen will pike up them with The Siren Project fan-ideas. This course will give you some exiting arm and hip variations.
13:40-16:10 - Devi Mamak Step inspired ATS® Fan Movement Dialect from Katarzyna Lidia and some more!
The Devi Mamak step inspired ATS® Fan movement is part of beautiful dialect from The Siren Project, created by well known ATS® dancer Katarzyna Lidia from Warsaw, Poland. 2019 is a fancy colorful ATS time - do you want some more special tones to paint on your art of dance? We will learn fabulous Devi steps apply to fan movements. Including the Frankenstein, The Gypsy Grapevine, Matador, Seville Romance, Carmen…. just mentioning only a few of them! This workshop request the attendance at first workshop or the previous familiarity of some Devi Steps.
What to bring: comfortable dress, fan (free size)
Trainer :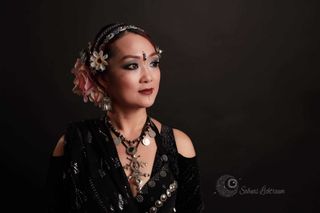 Eleen
Dates:
| | | | | |
| --- | --- | --- | --- | --- |
| 1. | 04/20/2019 | 10:30 - 13:00 | Falkstr. 72-74, 60487 Frankfurt | Eleen |
| 2. | 04/20/2019 | 13:40 - 16:10 | Falkstr. 72-74, 60487 Frankfurt | Eleen |
* All prices including VAT