Art of Being Retreats
Starts on Friday, 22/02/2019
Price 180.00 €
Description:
Program Description (AOB Feb) What chains of questions and curiosities have woven themselves throughout your life and ignited wonder in you from childhood to now? Opening to our senses through meditation, our natural curiosity and wonder arises. Exploring the questions that captivate our curiosity and wonder brings insight into what makes us come alive as a unique human being in the world. In this program, we will use the art of map-making to chart these curiosities and see where they lead us. We will explore the archetype of the hero's journey and, using our map of curiosities as a guide, envision a journey (real or mythical) that will take us closer to becoming our true authentic self.
Program Description (AOB May) The elements of earth, water, air, and fire surround us and flow through us, expressed in the awe-inspiring forces of nature. We can also see and feel their vital expression within us: in the biological systems of the human body; in the fabric of thoughts, emotions, and activity that flows endlessly throughout our lives from one moment to the next. Harnessing these elements begins with seeing them more clearly, and learning to flow with their energy, rather than struggling against it. We will engage in a variety of meditation and art practices that allow us to tap into each of these elements and give visual expression to our experience of them in our lives and the world around us, through color, line, texture and material; through the language of art.
What is Art of Being? Perhaps you have never picked up a paintbrush, or maybe you have been making art your whole life. No matter where you are, we will all start at square one with a "beginner's mind." Whether for a first take, or a fresh take, we will journey through the creative process together, in a supportive community of fellow travelers. We will find that artistic expression is a vital way to make meaning of our unique experience in the world, a process of becoming more fully ourselves. It is a creative capacity we all share, an inherent mark of our human heritage. This workshop-retreat will introduce a variety of mindfulness practices you can take back into your daily life. They will be woven throughout the structure of our program, and will lead into art encounters designed to nurture and give wings to the artist within. The level of guidance or independence in these activities can be tailored to each individual's needs or desires.
Facilitator: Michael Anderson BA, MA, MBSR Teacher
Dates 2019 : 22 February 17:00-20:00 & 23 February 10:00-17:00h 17 May 17:00-20:00 & 18 May 10:00-17:00h
Pricing: €180,- VAT enclosed, per Workshop, materials and light refreshments included
WANT TO JOIN? Email us and we get back to you with all the details: info@citystille.com
Trainer :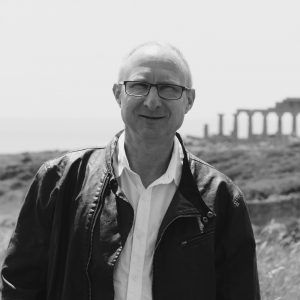 Michael
Michael has been an educator for twenty years. He currently teaches Art at the American International School, Vienna. He holds a MA in Art and Art Education from Columbia University in New York, and a BA in Studio Art from the University of Minnesota. He has been studying and practicing meditation in the Shambhala Buddhist lineage since 2005. He has trained to be a certified MBSR Instructor through MIndful Academy, a UK-accredited mindfulness teacher training institute, and is certified to teach the dot B mindfulness curriculum to secondary students. Michael is interested in the intersections between mindfulness, the artistic process, and the art of teaching. He hopes to one day open a contemplative arts retreat center in his ancestral homeland of Sicily.
Termine:
| | | | | |
| --- | --- | --- | --- | --- |
| 1. | 22/02/2019 | 17:00 - 20:00 | Hollandstraße 18, 1020 Wien | Michael |
| 2. | 23/02/2019 | 10:00 - 17:00 | Hollandstraße 18, 1020 Wien | Michael |
* All prices including VAT