Andrea Marcum - Close to Om
Starts on Saturday, 08/10/2019
Description:
Close to Om with Andrea Marcum is a weekend immersion to start where you are and stretch to your full potential --body, mind and spirit.
Think of your weekend odyssey as an archeological dig to discover the hidden treasures that already exist within you but which have become buried underneath obstacles you might not yet be able to see.
You'll emerge untangled, with a new perspective. Your friends will want to know what your secret is, and you'll know you've found your OM.
Warning: this program includes laughter, sweat, playful fun, relaxation and inspiration.
Teacher :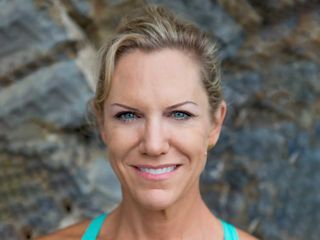 Andrea Marcum
Andrea's combination of a challenging class, and a great sense of humor are unique, intelligent, and always leave me feeling better when I leave than when I arrived. She is an amazing teacher and I love her class. — Heather Graham, actress Andrea Marcum has been teaching yoga for nearly two decades. She founded U Studio Yoga in Los Angeles in 2006 and ran it for nine years (that's about 100 years anywhere else). Then when yoga stretched her out into the world to teach international workshops, retreats and festivals she traded in brick and mortar for frequent flier miles, closed her studio and began teaching at Yogaworks.
Dates:
| | | | | |
| --- | --- | --- | --- | --- |
| 1. | 08/10/2019 | 10:30 - 12:30 | Seestrasse 53, 8702 Zollikon | Andrea Marcum |
| 2. | 08/11/2019 | 10:30 - 12:30 | Seestrasse 53, 8702 Zollikon | Andrea Marcum |
Cancelations
Anmeldungen für alle Angebote sind verbindlich. Bei einer Teilnahmeverhinderung an Ausbildungen hat der/die Teilnehmer/In immer die Möglichkeit eine Ersatzperson zu finden. Dies unter schriftlicher Mitteilung per Mail unter Angabe von Name/Vorname und E-Mail Adresse der Ersatzperson.
Abmeldungen sind mit administrativem Aufwand verbunden. Alternativ kann das Kursgeld je nach Abmeldezeitpunkt teilweise erlassen werden. Abmeldungen müssen in schriftlicher Form mitgeteilt werden.
Der Erlass bzw. die Rückerstattung des Kursgeldes ist wie folgt geregelt:
Abmeldezeitpunkt Rücktrittsgebühr bis 2 Monate vor Veranstaltungsbeginn: 25% des Kursgeldes bis 11 Tage vor Veranstaltungsbeginn: 50% des Kursgeldes unter 11 Tagen vor Veranstaltungsbeginn: 100% des Kursgeldes
Nicht besuchte Lektionen können nicht nachgeholt werden und werden nicht rückerstattet. Bei Abwesenheit (Krankheit, berufliche Belastung, andere Gründe) oder bei Abbruch des Workshops oder der Ausbildung besteht keinerlei Anspruch auf Reduktion oder Rückzahlung.
Es gelten die allgemeinen Geschäftsbedingungen der ATHAYOGA (Schweiz) GmbH
* All prices including VAT