What about the Hips? - A hip Opening Special
Starts on Sunday, 24/03/2019
Price 40.00 €
Description:
Hip Opening Workshop with Guest Teacher Changu Changezi - come by, open up your hips and your mind will follow!
The idea of this workshop is to help students increase their knowledge and understanding of their hips and pelvis. When you think of your hips you shouldn't just think of your butt, but you should think about everything that builds your hips and its entire structure. From the gluteus maximus muscles to hip flexors.
Nature says use it or lose it. When we don't use certain muscles for a long time, they lose their flexibility and start to shorten. It is incredibly important to keep stretching them so the skeletal system can do its job well.
Who should attend this workshop? Anyone who has hips! It would be best suited for runners, athletes, cyclists, long distance drivers, people with a 9-5 desk job routine and anyone who has tight hips... that means pretty much every one!
After this workshop you will have learned how to execute and stay in some simple hip opening moves that you can practice daily. We will explore some basic hip opening asanas and some intermediate so that each student will find a good point of challenge.
Remember growth happens OUT of your comfort zone. It will be uncomfortable but Changu will make it fun and entertaining, so we can all enjoy as we learn and laugh. It will be like a deep tissue massage for your hips and you are the masseuse so you know when to increase the pressure and when to back off.
Trainer :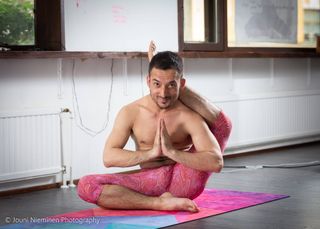 Changu
Dates:
| | | | | |
| --- | --- | --- | --- | --- |
| 1. | 24/03/2019 | 11:00 - 13:00 | Wiedner Hauptstraße 78 -, 1040 Wien | Changu |
Cancelations
Allgemeine Teilnahme- und Zahlungsbedingungen: Mit Zahlungseingang ist der Platz im Special garantiert! Die Teilnahme kann bis 7 Tage vorher kostenlos storniert werden. Danach erfolgt keine Rückerstattung des Workshop-Beitrags. Es kann aber jederzeit ein Ersatzteilnehmer genannt werden, der noch nicht angemeldet ist. Die Teilnahme erfolgt auf eigene Verantwortung. Der Workshop findet in Englischer Sprache statt.
* All prices including VAT