Arm Balancing Workshop - all levels
Starts on Saturday, 06/29/2019
Price 30.00 €
Description:
Overcome your fears & learn how to fly! This workshop will provide all the mental tools you'll need.
We'll warm up with some stretches & dynamic flow before diving straight in & exploring various arm balances including Bakasana (Crow Pose), Astavakrasana (Eight-Angle Pose) and both versions of Eka Pada Koudinyasana (Pose Dedicated to the Sage Koundinya).
You'll soon come to realise that, rather than being all about arm strength, many arm balances simply require mindfulness, correct alignment & core activation. We'll look into all these areas as we progress from pose to pose.
This workshop is aimed at people who already have a regular yoga practice.
Teacher :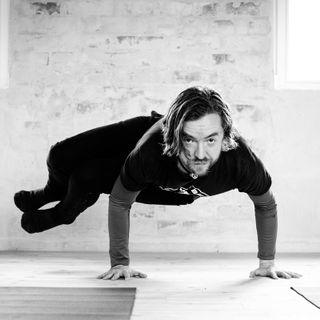 Mark
Tired but completely fulfilled I lay on the floor watching a tiny, drifting speck of dust in the sunlight. I became acutely aware of a deep connection with it & everything around it. This was how I felt after my first Vinyasa Yoga class 7 years ago. So much became clear to me. Realising simple ways of making space physically and mentally, ways of moving with purpose, ways of being creative, expressive & compassionate. Over the next few years my practice deepened & I developed a desire to share what I had learned. So, I did my Power Yoga teacher training with Dylan Ayaloo who had trained under Baron Baptiste & I began to teach in London. My move to Leipzig presented new challenges but also showed me how the simple language of yoga can bring people together. I teach a dynamic & powerful class emphasising the importance of correct alignment & the balance of breath & movement. Müde und doch vollkommen erfüllt lag ich auf dem Boden und beobachtete ein Staubkorn im Sonnenlicht. Ich spürte eine universale Verbundenheit mit ihm und allem um es herum. So fühlte ich mich nach meinem ersten Yogakurs vor 7 Jahren. Das war der Wendepunkt, an dem ich begann, meinen Fokus auf etwas zu richten, das mir die Welt bedeutet und das ich mit anderen teilen will. Ich absolvierte bei Dylan Ayaloo, seinerseits Schüler von Baron Baptiste, die Ausbildung zum Power-Yoga-Lehrer und begann, in meiner Heimat London zu unterrichten. Mit meinem Umzug nach Leipzig begegnete ich neuen Herausforderungen, erlebte aber auch, wie die simple Sprache des Yoga die Menschen zusammenbringen kann. Bei meinen dynamischen, kraftvollen Stunden lege ich Wert auf korrekte Ausrichtung und die Verbindung zwischen Körper und Seele, Atmung und Bewegung.
Dates:
| | | | | |
| --- | --- | --- | --- | --- |
| 1. | 06/29/2019 | 14:00 - 17:00 | Zschochersche Straße 54-56, 04229 Leipzig | Mark |
* All prices including VAT