Mazé Method Alignment Yoga, Open Level
Starts on Saturday, 30/03/2019
Price from 14.00 €
Description:
Diese beiden 90min-Kurse werden unterrichtet von Stephen Ewashkiw - unserem internationalen Gastlehrer. Im Rahmen der laufenden Mazé Method Yoga Immersion (4 Wochenenden Yoga Vertiefung über 4 Monate verteilt) bietet Stephen auch diese kleineren Kursformate an - für alle! Ohne irgendwelche Voraussetzungen.
Dieses Wochenende im März: Foundation!
Sa 11-12.30 Uhr Foundation: Arms & Shoulders
So 11-12.30 Uhr Foundation: Legs & Hips
Ihr könnt mit Euren regulären 10er-Karten, Abos oder mit regulärem Einzelticket kommen. Anmeldung hier wäre toll, ist aber nicht zwingend nötig.
We will go on a yoga adventure, energizing your mind and body while discovering how yoga helps you expand your possibilities, on and off the mat. Come to get inspired, stretch your comfort zone, and cultivate a deeper connection to your yoga and yourself.
These special classes are suitable for ALL levels.
The goal of Adventure Yoga is to help you uncover the courage and strength to make the most of your potential — and also to have more fun on the mat!
Teacher :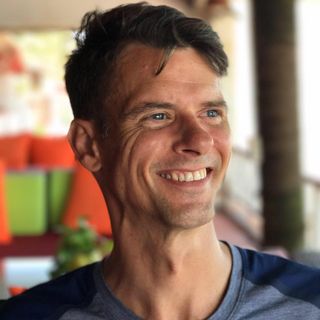 Stephen
ABOUT STEPHEN: Stephen's unique practice is all about exploring and expanding possibilities within yourself and in your life. The goal of Adventure Yoga is to give you the knowledge, courage and empowerment to make your own choices and step outside your comfort zone. Stephen has achieved the highest possible certificate from Yoga Alliance, ERYT 500, and is a select group of teachers leading trainings for Noah Mazé's yoga school, The Mazé Method. Stephen founded Adventure Yoga in 2014, has been teaching yoga for ten years, and has inspired thousands of students in more than 25 countries around the world. Discover more at www.myfiveacres.com/yoga
Dates:
| | | | | |
| --- | --- | --- | --- | --- |
| 1. | 30/03/2019 | 11:00 - 12:30 | Bogenstraße 45, 20144 Hamburg | Stephen |
* All prices including VAT